Stay calm and be polite
Don't panic. It's happened to most of us at one time or another. It is easy to get distracted, or in a hurry when you are running late for something important. But what should you do after getting the ticket?  While it might not look like that much money just to go ahead and pay the fine listed on the ticket, that may not be the end of it. Perhaps it is wise to do a little research and investigate the long-term consequences of paying off that ticket.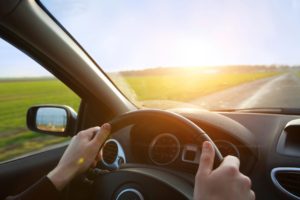 Fines and Points
An average speeding ticket fine in North Carolina is around $30.00 - $50.00, plus a $188.00 fee in court costs. In addition to fines, drivers who have been cited for speeding can potentially receive points against their license.  Along with points on your license, you may receive points towards your auto insurance, which in turn could increase your auto insurance premiums.     
License Suspension
Pursuant to N.C.G.S. § 20-16.1, there is a mandatory suspension of your driver license  for a period of 30 days if you exceed the speed limit by more than 15 miles per hour if you are driving at a speed in excess of 55 miles per hour or driving at a speed in excess of 80 miles per hour.   Upon a conviction of a second and subsequent offense that occurs within a year of the prior offense, your license will be suspended for 60 days.  
Pursuant to N.C.G.S. § 20-16, the North Carolina Division of Motor Vehicles has the authority to suspend your license if you accumulate 12 or more points within a 3 year period, or 8 or more points within a 3 year period immediately following the reinstatement of a license which has been suspended or revoked because of a conviction for one or more traffic offenses. Getting a license reinstated isn't necessarily easy. It requires:
A restoration fee of $65.00
proof of identification and valid insurance
and tests, if applicable.
Burns, Gray & Gray is here to help you.  We can walk you step by step through the process and help you get the best outcome possible.  In many cases we can appear on your behalf, so you won't even have to go to court.   
For additional information and resources check out our page, Traffic Offenses DWI/DUI